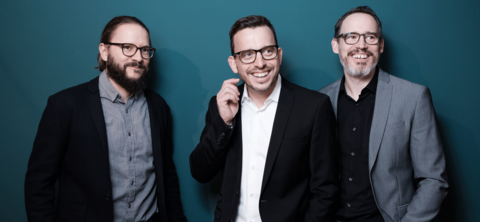 Relaunch Interview
In this interview the leading lights of Jazzunique reveal how the new design came about, what makes it so exceptional and why there is not just one logo but a whole battery of them.
Why did you decide to rethink the Jazzunique brand in design terms?

Mathias Pritzkow: At the beginning of the process it wasn't basically a matter of changing everything. We rather wanted to consider whether the image we present really reflects all that we are, and all we offer to our customers.

Jesper Götsch: We wanted to put across a more contemporary image to the outside world. And here of course the digital application of the brand has an important part to play. The old design, we felt, just wasn't quite up to the mark. In addition, it was important for us to develop a more distinct brand image – we wanted to generate greater clarity in the visual presentation of the brand.

Börries Götsch: As an agency and as individuals, we have changed and moved on a lot in recent years. The services we offer have expanded and our thinking has changed, we have become more interdisciplinary and are now able to work in a more holistic way. So it was a perfectly logical consequence of our reflections on this that we should also, at this point, take a very close look at the image we project. With a view to realising this process of creative reflection, it was also important that we should have the courage to look at ourselves from outside – and so, after some searching, we happened to hit upon Schultzschultz, and were immediately impressed by the exceptional style and special approach of the Frankfurt agency.

What targets did you aim for with the redesign?

Jesper Götsch: We had been making changes and additions to our design over the years, always in small steps. This meant, admittedly, that stringency and clarity of line sometimes fell by the wayside. We wanted to recover clarity and underline the distinct and unique identity of our brand.

Börries Götsch: We wanted something that was going to last. So a certain air of timelessness was very important to us. We didn't want to be modifying the look continually – above all in view of the fact that it needs to be recognisable – but rather aimed at a clarity of line that would leave space for variation. At the same time, as we are a creative agency after all, a contemporary style of self-presentation is of course fundamental. We wanted the new design somehow to succeed in combining these opposites.

What is special about the result, and what do you particularly like about it?

Mathias Pritzkow: Our new logo lives by its capacity for modification. Only the first and last letters are predefined in the way they look – all the other nine glyphs come in numerous versions, so that we can create almost infinite variants. So we have the possibility of being crazy and vociferous, but at the same time, when called for, we can be just simple and quiet. All the while retaining a distinctive and unmistakable look.

Börries Götsch: What I find particularly fascinating about it is the apparent contrasts which come together as part of the process – a fixed frame and timeless visual image, combined with constant and extreme variation. You could describe the result as a 'complex simplicity'.


Jesper Götsch: What has emerged, in my view, is enormously innovative and comprehensive. On the one hand the logo generates an unmistakable and distinct identity, which is important for us as a brand, but at the same time it offers every single team member the chance of 'doing their own thing' – so it also promotes individuality. For example, each of us now has his or her own specially designed and unique business card. The logo is perfect for representing what we are – a whole bunch of individual talents who come together in a successful ensemble, take on challenges as a team and all follow the same goal. The word mark in the logo stands for our emphatic commitment to the name 'Jazzunique'. We deliberately preferred this to an icon that would only show the name in curtailed form.

How did the new corporate design come about?

Mathias Pritzkow: It was important for us to involve or employees in the process right from the beginning. So first of all we held a workshop, with representatives of every team and the creative directors of Schultzschultz, to consider how our definition of Jazzunique and our expectations of the new design intersected – and then of course, we had the perspective and contribution of a critical outsider. Even after the workshop was over, we were still heavily involved in the further development of the idea. Long before the launch we involved the whole team – and here again the results met with a lot of positive acceptance.

What was the biggest challenge along the way?

Jesper Götsch: It did actually cost us more effort than we expected to let go of what we had learned and release existing patterns. With our old corporate design we had grown enormously, had made ourselves a reputation in the industry – and of course that was always closely associated with the way things looked. It was quite a process letting go of all this, trying to scrutinise everything without prejudice and striking out on new paths. But it's definitely been worth it!

How will the new branding find expression in your daily work at the agency?
Mathias Pritzkow: Consistency and stability are still very important to us, so we will now be all the more concerned to see that the new design comes regularly into view in everything emanating from us.
Börries Götsch: The new branding involves every single one of us in a more intensive way – this should create a stronger sense of loyalty to the brand. And what is more, our logo can now be much more easily linked in with digital applications. Our new website, which we developed in conjunction with our partner agency wysiwyg in Düsseldorf, is in my view the perfect proof of this.