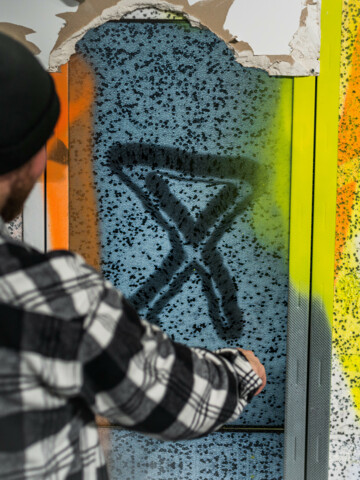 imrfct? - Merging of digital and real spaces
With the imprfct space, the heart of our premises becomes a showroom, a gallery and an experimental field for art, design and staging.
By merging physical spaces and digital worlds, we continually create new spatial experiences.
As a visitor to our exhibition space, you find yourself in the middle of a creative process and gain exclusive insights into the work of the respective collaborating artist.
The design of rooms is part of our DNA: Jazzunique turns brands into experiences with strategic communication. With the emotional power of dramaturgy, space, design and technology, we stage messages that move. For more real interaction between people, brand and product - real and digital.
bright!, as a design and technology studio based near Frankfurt, is responsible for the digital connection and expansion in the collaboration with the artists in the imprfct space.
imprfct space No 2 - Max Geisler
Frozen snapshots
The exclusive installation by the Frankfurt-born artist Max Geisler once again transforms the imprfct space into a walk-in work of art.
imprfct space No 1 - Engin Dogan
Urban art as an immersive spatial experience
The exhibition with Engin Dogan gave the starting signal for the imprfct space and thus for a long-term series of art experiences.