imprfct space No 3
–
Lisa Tegtmeier
Strong, self-confident characters
The imprfct space continues with Lisa Tegtmeier. The collaboration with the Hamburg-based artist creates a new spatial experience in the symbiosis of physical space and digital worlds. The illustrator Lisa Tegtmeier is known for her trendy, striking style, which thrives on charismatic characters. Her depictions focus on a colorful society with strong, self-confident figures, as well as topics such as friendship, female empowerment and diversity. She has already implemented illustrations for international clients such as Google, Nike and the New York Times and has worked on global campaigns.
More about Lisa Tegtmeier:
A colorful world
After drawing exclusively digitally for several years, Lisa Tegtmeier has recently been experimenting with new media, bringing her colorful world to the physical. With the imprfct space, together with Jazzunique and the design and technology studio bright!, she pushes this experimentation further and opens up her characters for a spatial representation. She wants to enable visitors to immerse themselves in her illustrative world. What appealed to her most about working with bright! and Jazzunique was the coming together of different disciplines, which ultimately produces a result that she herself would not have been able to create as an individual in this way. The aspect of going in a direction in which she had never been with her art before brought not only challenges, but also new impulses for her work.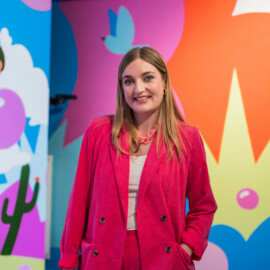 "My work no longer felt limited, but showed me what is possible. I'm not used to letting go and giving up control of the result. But it was the only way I could take my work one step further and turn it into an immersive experience." - so Lisa Tegtmeier about the cooperation
A playground for adults
For the transformation of the illustrative elements into an immersive experience, Lisa Tegtmeier moves out of the flat 2D plane for the first time and transforms her illustrative world into a 3D experience. To this end, she defined a fixed look for the exhibition in advance, which is taken up both in analogue form via components of the room and is also continued and expanded with digital components. The digital expansion is made possible by the use of a large LED surface. The use of various tracking technologies allows the movements of visitors to the imprfct space to be recorded in real time and transferred to 3D models, which means that they slip into the role of the designed characters and use them as 3D avatars can be controlled. In addition, special sensors record the position data of the people in the room, which is interpreted by audio software and results in a location-based volume adjustment of sound effects, allowing visitors to immerse themselves even more deeply in the installation. Visitors to the installation can also take selfies in virtual Record reality, which is interpreted by face tracking data from the respective facial features and ejected on a virtual face.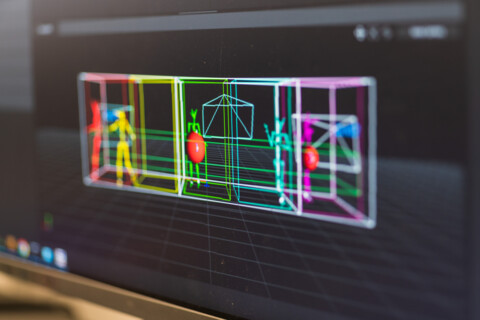 By collaborating with Jazzunique and bright! in the imprfct space, Lisa Tegtmeier creates an environment that allows you to fully immerse yourself in her art and experience it in a new way. The idea behind the exhibition is to break out of the familiar and immerse yourself in an unknown, fantastic world. To do this, she puts her personal perception of the world on paper and practically translates it into her own language. Immersing yourself in the artist's world, being able to take on the roles of the different characters, playing with shapes and colors and exploring the possibilities of interaction allows a kind of escape from reality into an adult playground. Visitors are invited to experiment in order to ideally forget the stress of everyday life for a brief moment by experiencing the art.
For Jesper Götsch (Managing Partner & Founder Jazzunique), the cooperation with Lisa Tegtmeier provides important impulses : "The cooperation with Lisa Tegtmeier is a symbol of our claim to aesthetics, immersion and spatial experiences and gives through the merging of digital staging and analogue spatial art the opportunity for visitors to become a living part of a digital world. This time I am also particularly pleased about the chance to consciously or accidentally slip into different characters through digital interaction in this installation - this will ensure a lot of movement and joy for us."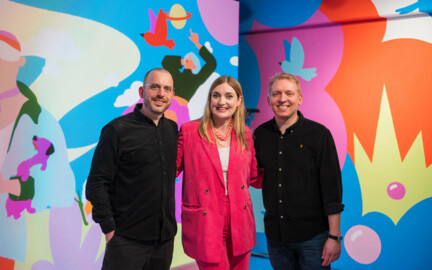 Come over!
Opening
The imprfct space No 3 opened on March 21st and is accessible for one month.
Closing
Stop by the closing of the installation and register here:
In addition, the exhibition from 21.03. can also be viewed by appointment until April 21st, 2023. Please contact us directly for this:
+49 69 4015073 0
hi@jazzunique.de
imprfct space
Jazzunique GmbH
Leipziger Str. 59 b
60487 Frankfurt