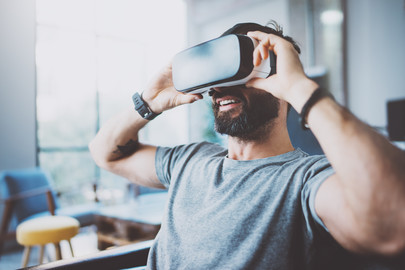 The guest is always the center of attention – digital events are no exception
Why do we attend events? Of course, it's about exchanging information and networking. But what is really needed to leave a lasting, positive impression and to feel appreciated as guest? Whether it's the personalised invitation, the unusual location, the impressive catering or the incredible production – all these factors contribute to a positive impression. Such a successful event doesn't end the same night. Long after the event has ended, we will report back to our colleagues, friends and family how every single detail made us feel valued and special. Every little aspect elevated the event to an extraordinary experience that made us feel valued – and that feeling is worth sharing.
Do you have to compromise that feeling when it's a digital event? Definitely not! Where there are new ways, there are new opportunities and a lot of potential. You can't merely translate analogue events into digital ones though – digital brand experiences have to be approached in a new, unique way and they have to be put into an appropriate setting. Just as much as in a "real" event, a digital event requires attention to detail, a lot of sensitivity and creativity to create an unforgettable experience for our guests.
You absolutely don't have to forego spontaneity, fun and interaction – we can show our guests how important they are through informative content, spontaneous acts, interactive tools and impressive production.
The appreciation of the guest is always the priority – whether it's an analogue or a digital event. You would like more information on the conception of digital events? Download our whitepaper here where you can read everything about the realisation of a successful digital event.
Whitepaper "Digital Event Communication" Download
We are also happy to help you personally. Feel free to call or write us an e-mail. From the conceptualisation to the realisation, we will assist you in creating your very own successful digital event.
Contact:
Natascha Kneissl
Unitmanager Event
+49 69 4015073 44
n.kneissl@jazzunique.de