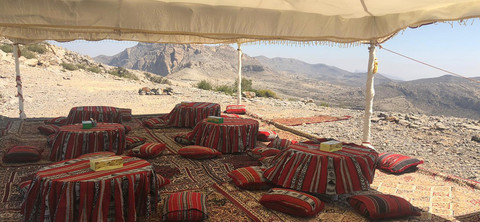 Incentive Trip to Magical Oman
Golden mountain ranges, endless desert landscapes, souks, clouds of incense and fascinating encounters with incredibly friendly people: That's what we associate with Oman. They accompanied 22 sales employees on an incentive trip to the magical sultanate for five days. The program included dolphin watching and breathtaking views in the Omani high mountain range, as well as cultural highlights such as a visit to the modern, large Sultan Qabus Mosque.
On the off-road tour, we traveled in a four-wheel drive vehicle over stony roads through the pristine Omani mountain landscape of the Hajar Mountains. Deep-sea fishing, a safari through the desert and a party above the rooftops of Muscat made the days fly by. As a special highlight, the incentive participants were invited to a private dinner in the house of an Omani. With oriental delicacies and intensive conversations with the locals, the day could end perfectly here.