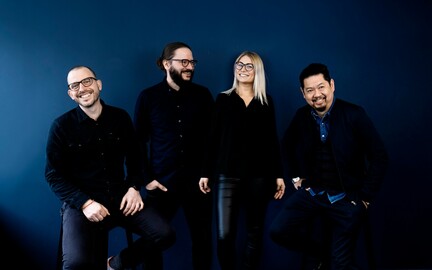 Jazzunique expands management
We officially welcome Natascha Kneissl and Pit Kho to the Jazzunique management!
Natascha Kneissl has been managing the event unit of Jazzunique since 2017 and is now also responsible for the campaign unit as a member of the management team. Pit Kho complements the management of Jazzunique surrounding Jesper Götsch (CEO) and Mathias Pritzkow (COO) after many years of experience in the interdisciplinary management of a wide variety of agencies with his creative expertise as CCO.
"We are very pleased that Natascha and Pit are taking on responsibility for our agency and want to help shape our future with their extraordinary talents – This expansion of our management team reflects the continuous development of our core business with regard to the increased need for holistic communication concepts and strategic consulting in the field of brand experience communication." says Jesper Götsch.
This step also fulfills the wish of the previous "Head of Creation" Börries Götsch who will devote more time to architecture and design projects from now on. Börries Götsch will continue to be a creative authority at Jazzunique and will be in continuous exchange with Pit Kho regarding current and future projects.
Jazzunique's business has been increasingly evolving since 2020 from the core tasks of staging of spaces and experiences towards more strategic communication consulting and the development of digital formats around holistic brand experiences. This process has been accelarated by the Covid-19 impact as well.
A current example of this is Jazzunique's own digital platform exparea, with which the agency has already successfully implemented individualized brand experiences with diverse interactive solutions for virtual live formats, interactive showrooms and high-quality experiential brand spaces for existing and new customers.