Welcome on board - Kick-off event of Eurowings Discover
Exclusive event for press & travel agents
For the airline Eurowings Discover, a subsidiary of Lufthansa, we were responsible for the entire conception and implementation of the kick-off event at Frankfurt Airport. The task was to introduce Eurowings Discover as a holiday flyer for vacation destinations at an event for press and travel agents.
The kick-off event took place directly in the A380 hangar at Frankfurt Airport, with an A330 plane from Eurowings Discover on-site, and was a special highlight of the event.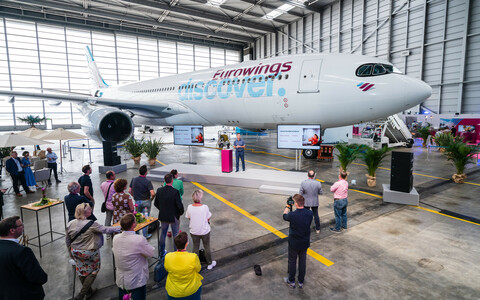 Diverse Program
After the welcoming speech by CEO Wolfgang Raebiger & CCO Helmut Wölfel, guests were able to explore the event area and familiarize themselves with the entire range of services and the USPs of Eurowings Discover at the informative theme stations. Here, guests received all important information about, among other things, onboard entertainment and catering, as well as insights into the onboard experience, which could be discovered with VR glasses. The design of the stands relied on blockout colors, which carried the corporate identity of the airline into the room. An exclusive tour of the A330 aircraft of Eurowings Discover was also on the agenda.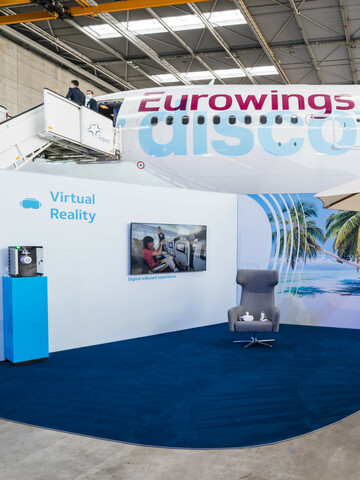 A380 hangar as event location
The hangar as an event location posed a particularly great challenge for the event, which had to be overcome. The event space was deliberately equipped to ensure that the various stations were clear and manageable for the guests. This challenge was successfully met through the targeted placement of stands, activities, and decorative elements. Additionally, since the hangar is typically located in a restricted security area, it had to be temporarily declassified for the event, allowing guests to participate smoothly and comfortably without additional security checks.
This event provided an impressive platform to introduce the new airline brand, Eurowings Discover, and effectively promote it as a holiday flyer for vacation destinations. Through a combination of information dissemination, activities, and a diverse program, the event was enhanced, and the guest journey was successfully executed.
Contact us!
Do you want to turn your brand into an experience with us? Then we are here for you! We stage your brand and make it tangible - through authentic interaction, digital enhancements, and valuable moments full of emotions that remain in memory.