360° urban football culture – architectural direction from conception to handover
Concept Store
Football culture in the heart of Europe, indeed in the heart of Frankfurt: OUTFITTER opened its first concept store, and we were responsible for the architecture. In this case we took on holistic responsibility for the entire project - from the conception through to the handover of the ready-to-use premises.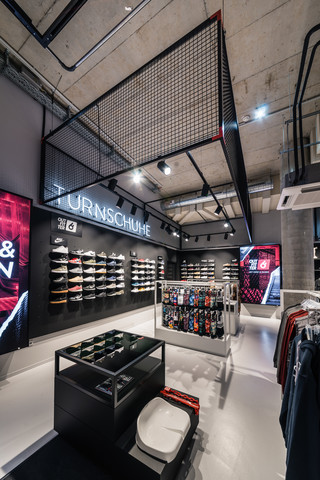 In designing the 510 square metre area of the shop, we were faithful to the slogan 'With heart and turf', focusing entirely on urban football culture and anchoring it effectively in the pulse of the Main metropolis. The resulting store design boasts an impressively clear ambiance, with occasional dramatically effective highlights, like the cages evocative of city football grounds.
Another special feature - in partnership with the industry leader adidas, the shop's own 'lab' offers individual laser embellishment of football shoes.
Get in touch!
We do everything that is needed, right down to the last detail, to make your brand a spatial experience – from the brainstorming workshop through to the conceptual planning and final handover of the completely realised brand space.