New perspectives, new spaces – rethinking an award show
FAMAB Award
For the most important national prize of the events industry, the Famab Award, we had the honourable task of making the most important venue of the prizegiving ceremony look special. As a gold sponsor, we designed the stage at the Forum of the Schlosspark in Ludwigsburg for the occasion. The important thing was to present the nominated candidates in a relatively short window of time, while providing a suitable presentation context for the award films.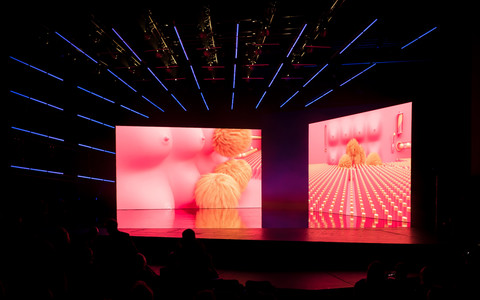 Combination of Elements
Two screens, freely positioned in space on a mirror surface, created extra visual depth for the stage while at the same time giving the spectators a completely new perspective. With artistic media content from Congaz, Björn Hermann's lighting design and the minimalist design of the stage area, we were able to create a different space for each item on the programme.
Get in touch!
We do everything that is needed, right down to the last detail, to make your brand a spatial experience – from the brainstorming workshop through to the conceptual planning and final handover of the completely realised brand space.