vünf – Working on sunshine!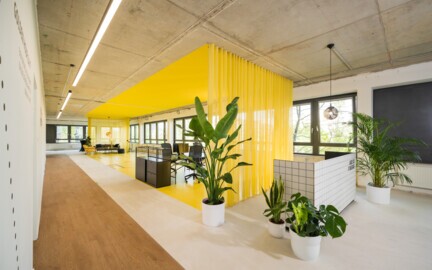 Freedom to develop
"Working on sunshine" - that's the motto that we implemented for the office show floor of vünf in Aschheim: Five buildings, one ensemble. The office space in vünf offers plenty of scope for development. High ceilings meet wide spaces, which bring with them a wide range of potential for new office environments. Our task was to adapt and stage the existing model office spaces in such a way that it appeals to a broad target group of potential tenants and also makes it possible to experience the full potential.
We used the 400m² area loosely and presented, under the motto mentioned above, workplaces that combine light, spaces and high-quality materials. On a circular route, visitors can experience the possibilities of the area and let themselves be guided by the sun.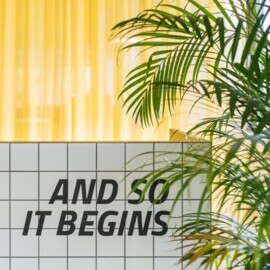 Flexible and individually playable areas
The customer journey of visitors to the office show floor begins as soon as they enter the elevator. Here, the application of the SUN lettering, which is supplemented by the word DOWN (SUNDOWN) on the first floor and completed by the addition RISE (SUNRISE) on the upper floor, directly addresses the subject of light and guidance through the sun.
The office-space shows that the open floor plan can be used flexibly and individually and adapted according to needs. The entire building is based on an axis grid that enables a clear structure and orientation. A flexible curtain takes up the grid dimensions of the building and can generate temporary office scenarios by opening and closing it. In this context, the partial transparency of the curtain and its color supports the motto "Working on sunshine".
Play of light and shadow
Targeted foils on the panes allow privacy and continue the theme. In addition, the attachment creates a play of light and shadow that gives the surface a positively charged character.
A combination of color surfaces, graphics and real furniture is presented in a suggested open office area, which directly takes up the topic of work. A color contrast in the form of the floor plan creates a zone that gives the visitor an idea of ​​future spatial planning.
A pop-up material library presents the individual design of the equipment. The material collage is a place of interaction. The material samples can be put together as you wish, and the high-quality basic equipment can be supplemented by the targeted use of other materials.
The tour leaves the visitor with a lasting experience of the office space and its potential use, which remains at the end of the customer journey. Thanks to the additions and content elaborations, they can already imagine what their own office could look like in vünf.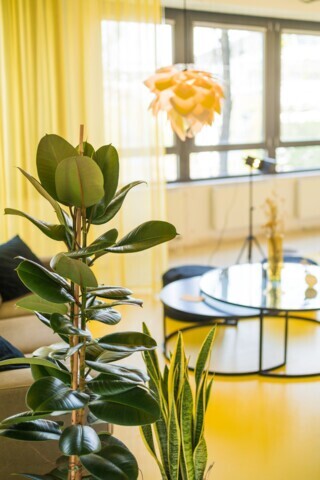 Contact us!
Contact us so we can bring your spaces to life! We ensure down to the smallest detail that your brand becomes a spatial experience - from the idea workshop, through the conception and planning to the turnkey handover.