AHA7 – Pop Up Office goes wild!
Real estate marketing as an emotional experience
We created a somewhat different office show floor in the AHA7 office complex in Frankfurt/Eschborn: With its high-ceilinged rooms and an atrium, "Haus B" from the nineties holds enormous potential for new office worlds - especially for young start-ups looking for that certain something for their own company. Our goal was to make this potential tangible through unconventional and bold measures.
Already at the beginning of the customer journey - when entering the lift - a statement is made: The golden mirrored lion cage already teases what will be continued in the further course of the walk. This must be the place!
The brand lounge with reception and broker wall for the digital presentation of real estate features such as stacking plans, floor plans and visualisations are dominated on the one hand by animalistic large-scale image motifs, but also depict the spatial design potential of the office space.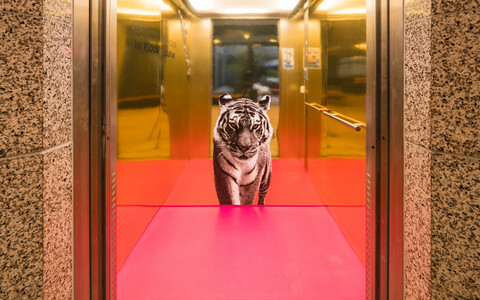 Create your own reality!
In the Open Office area, a selection of real workplaces to abstract workstations as floor plan floor plots allows the viewer to get an exact idea of the future space planning.
Miami is dope! In the subsequent meeting area, an unconventional furniture installation shows that a meeting can also be held in deck chairs with a view of palm trees.
On the way back, before-and-after walls show visitors the vision in 3D. Through small windows, partial rooms can be viewed in their actual state and compared with the visualisations on the opposite side.
A look outside shows that the atrium offers employees a unique space for the perfect work-life balance.
A lasting experience is what remains at the end of the customer journey. An office that occupies a large place in the visitors' minds because they are already imagining what their own office in AHA7 would look like.
Get in touch!
We do everything that is needed, right down to the last detail, to make your brand a spatial experience – from the brainstorming workshop through to the conceptual planning and final handover of the completely realised brand space.