imprfct space No 2
–
Max Geisler
Frozen snapshots
The exclusive installation by the Frankfurt-born artist Max Geisler once again transforms the imprfct space into a walk-in work of art.
In his artistic practice, Max Geisler is always guided by personal visual experiences, whereby he is often fascinated by banal everyday phenomena in public space. As an artist who works analogously, he is interested in the role and production of painting in the post-digital age. In addition, he creates site-specific spatial installations that present themselves to the viewer as walk-in pictorial spaces. Here, a controlled act of destruction merges with an intuitively controlled painting process and culminates in a kind of frozen snapshot that, through the movement of the viewer, constantly gives new perspectives on image and color constellations. Demolished walls and insulating material are ultimately an integral part of his painterly composition. He often creates different image levels through the additional use of reinforcement mesh.
More about Max Geisler: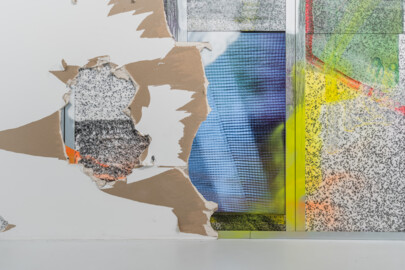 Glitches & Interaction
For the imprfct space, he uses exactly these generated image levels. The superimposition of wall and reinforcement fabric creates a moiré-like flickering in his works, which is reminiscent of an analogue materialization of those image disturbances that appear as glitches in digital image processing.
Together with Jazzunique and the design and technology studio bright!, he is therefore actively addressing this relationship for the first time and in his work replaces the reinforcement mesh with digital, interactive elements that allow external influence on his art.
Jesper Götsch, founder of Jazzunique, sees spatial experiences as essential for the corporate culture of the agency:
"It is particularly important for us to allow design, art and staging to be experienced directly in our corporate culture. The works of Max Geisler fits perfectly into our imprfct space. Through his way to work with apparently accidentally created deconstructive elements, the merging of real and digital perspectives as well as the highly aesthetic room staging, an energy is created that is immediately transferred to our agency rooms. A place that gives all visitors and employees impulses for the emergence of new thoughts, ideas and projects".