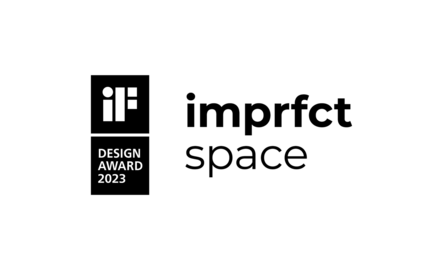 imprfct space received a design award
We won an iF DESIGN AWARD with the imprfct space and are therefore among the winners of the renowned design label.
The iF DESIGN AWARD is a globally recognized trademark when it comes to excellent design. Achievements in all disciplines are awarded (product, packaging, communication and service design, architecture and interior design as well as professional concept, UX and UI).
The concept of the imprfct space was awarded in the discipline INTERIOR ARCHITECTURE, under the category INSTALLATIONS. The imprfct space was able to convince the 133-strong international jury with the innovative approach of a lively experimental field as a laboratory for experience communication. Among almost 11,000 submissions, we shone with our exhibition as an experimental field for art in the office.
About the submitted project:
Every agency has a reception area that gives a first impression of them. For various reasons, our reception has become lifeless and empty. It quickly became clear that this space deserved a change: something real, tangible and inspiring. The imprfct space was born:
A creative stage for new thinking, collaborations and innovative projects. This is where art meets design and connects the digital and the real world.
A lively field of experimentation and a constantly changing laboratory for experience-oriented communication. What is created here is never perfect, but imprfct. First, we turned our 60 m² reception into a blank canvas. Based on our agency's culture and philosophy, we planned a series of inspiring exhibitions, events and workshops.
Our first curated experiences included various artists: Engin Dogan and Max Geisler. With complete freedom and digital support, artists, partners and staff have created unique and tangible experiences.
More about the concept of the imprfct space and the implementations submitted with bright! studios and the artists Engin Dogan and Max Geisler can be found here.