Two events, one location
For the airline Eurowings Discover we were responsible for the conception and implementation of two events. The subsidiary of the Lufthansa Group presented its range of services to partners and representatives of the tourism industry as part of its industry event. Furthermore, they thanked their employees for the past fiscal year and the good cooperation by organizing an employee event.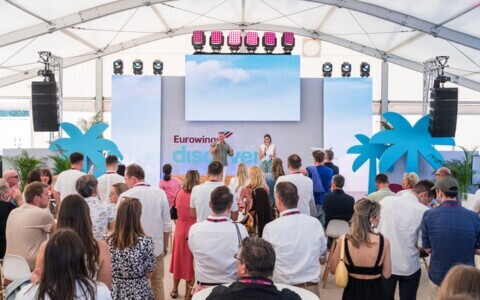 Authentic presentation
For the two events, we identified the Chamäleon am See as a suitable event location. With a large sandy beach on the shores of Raunheim's lake, the location creates the right atmosphere to authentically present the Eurowings Discover brand and its range of services. The location directly in the approach corridor of Frankfurt Airport provides another direct link to the company.
Island hopping, in a different way
In addition to the selection of the appropriate location, we also took over, in close cooperation with the client, the conception and implementation of the two event formats, the stage design, the room design and many other aspects.
For example, our Space unit translated the company's corporate design into the spatial dimension. Core elements of the brand identity were taken up and transferred holistically to the event. For example, the OnBoard concept of the SunnySeat of Eurowings Discover was presented to the guests in the form of a giant deck chair.
A highlight of the event was the work of a sand artist, who sculptured the airline's route network to clearly depict the individual destinations.
On the content level, the guests were able to inform themselves and exchange ideas through various offer formats. The matchmaking lounge enabled a direct exchange with experts from the company and provided deeper insights into the processes and orientation of the airline.
In addition, the visitors were able to get to know the company in a playful way during the so-called "island hopping". Here, perspectives and focus areas of the airline were addressed in topic-specific "islands". For example, guests were able to learn more about the airline's sustainability measures at the "Responsible Island", test upcoming elements on board on the "Future Island", have fun playing classic beach games on the "Game Island" or relax on the "Relax Island".
By appropriately zoning the location, we not only created a space for the 900 guests at both events to engage with the company, but also a place for personal discussion and relaxation.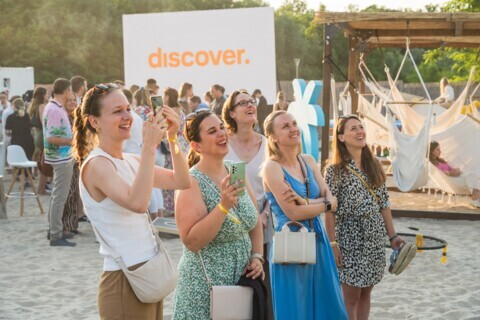 Kontaktieren Sie uns!
Sie möchten mit uns Ihre Marke zum Erlebnis machen? Dann sind wir für Sie da! Wir inszenieren Ihre Marke und machen sie erlebbar – durch authentische Interaktion, digitale Erweiterungen und wertvolle Momente voller Emotionen, die im Gedächtnis bleiben.