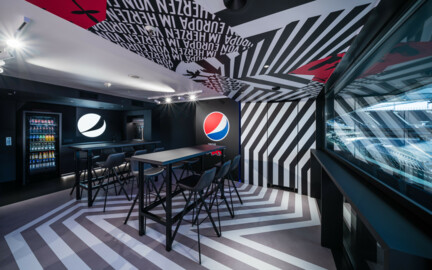 PepsiCo x Eintracht Frankfurt
PepsiCo has been a sponsor of Eintracht Frankfurt since July 2022. As part of the partnership, the group asked us to redesign and convert a lounge in the Deutsche Bank Park in Frankfurt. A lounge is a private area in the stadium that provides an exclusive ambience for receiving guests and sharing and experiencing the stadium atmosphere with them.
The challenge was to create a holistic spatial experience on an area of approximately 36 square meters, creating a symbiosis of representative brand space and emotional meeting point that is unique in the stadium context. For the lounge, we adapted the unique design of the Eintracht x Pepsi MAX Limited Edition, which has been available in the Rhine-Main area since the start of the sponsorship, and translated it into a walk-in scenographic world. In the Challenger-Spirit, the design reflects the liveliness, desirability and passion for Eintracht and the city of Frankfurt.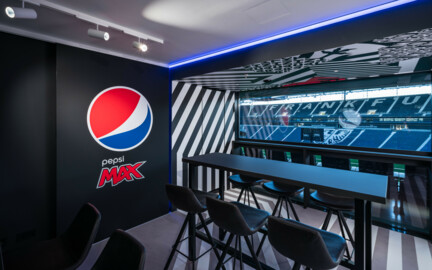 Holistic spatial experience
The immersive staging of brand and atmosphere was holistically conceived in the context of the architecture as well as emotionalizing and functional details and implemented to create a lasting and sustainable experience.
Get in touch!
We do everything that is needed, right down to the last detail, to make your brand a spatial experience – from the brainstorming workshop through to the conceptual planning and final handover of the completely realised brand space.