BIOPHILIC DESIGN for THE SQUAIRE
Challenge accepted
On behalf of AGC and Sonar, we took on the challenge of breathing new life into the imposing interior of THE SQUAIRE in a competition. Within the framework of the contest, we were able to convince with the concept we developed and achieve first place. However, the implementation of the concept is currently still open.
The aim of the competition was to improve the atmosphere and aesthetic quality of THE SQUAIRE for the local people. In doing so, great architectural moments and lovingly designed details had to be harmonised with the diverse concepts for using the space.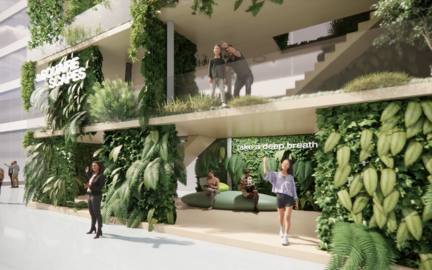 An oasis to switch off
In the forefront of the conception, it was quickly clear to us: such a large vacuum must become a holistic experience, a coherent architectural gesture that stands for excitement and attractiveness as a talk-about and key-identifier. In this way, people are accompanied, inspired and encouraged to come together on their way to work, on their way through or during their shopping trip. Here, we relied on a so-called biophelical approach, which let us shape the space into an oasis to escape to. We were inspired by flowing landscapes and emotional atmospheres.
Landscapes, symbolised by curves and waves, combined in a symbiotic dynamic - leading through the site through inconspicuously separate event zones - and precisely also paying homage to the building's signature.
Opportunities to escape from everyday life, symbolised by iconic vertical gardens that create spaces where people can interact directly with nature.
Get in touch!
We do everything that is needed, right down to the last detail, to make your brand a spatial experience – from the brainstorming workshop through to the conceptual planning and final handover of the completely realised brand space.