DEHN on the light+building 2022 - The brand as room
So that ideas can become reality
"We enable peace of mind, so ideas can grow into reality" - this is the slogan of the DEHN brand, on the basis of which the new corporate design of the 112-year-old company was developed by the agency wysiwyg*. The goal of the new corporate design was to make the brand experience as simple as possible at every touchpoint and to support potential customers in making uncomplicated decisions according to their needs.
Along the way, the tradition and history of the company for surge protection in modern, smart buildings had to be incorporated and consistently developed further:
Through a radical reduction, relevant and important elements could be worked out and appropriately staged, so that from now on the DEHN brand presents itself confidently, competently and dynamically.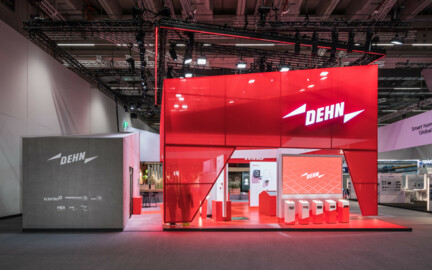 The brand as room
The brand experience in the room makes use, within the framework of the new branding, of the idea of the "shelter", the protected space that becomes accessible and can be experienced. The previously invisible protection is thus not only made visible, but also understandable.
The first public communication of the DEHN brand in the room took place at the light+building trade fair in Frankfurt.
Within the trade fair stand, the trade fair experience was enhanced by the integration of digital elements and also enabled visitors to use personalised content and functions.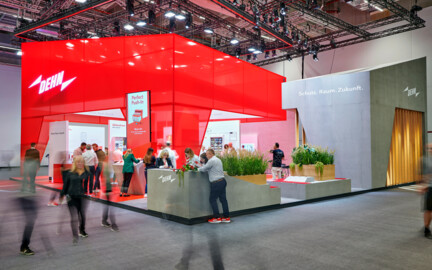 Get in touch!
We do everything that is needed, right down to the last detail, to make your brand a spatial experience – from the brainstorming workshop through to the conceptual planning and final handover of the completely realised brand space.