KIA on the IAA 2021 in Munich
Movement That Inspires
The Kia brand has radically transformed itself in 2021 with an elementary promise: Movement That Inspires.
Inspiring people to ideas through movement was the ultimate goal. This is especially true for a trade fair stand designed to let the industry & the public marvel at the boldly modernised brand. For the IAA Mobility in Munich, the challenge was to create attention for an intangible feeling within the mass event.
A credible brand experience must be surprising and interactive. If people on site feel that they are not just silent spectators but a living part of a production, then the connection with the brand is much more intense, immersive and ultimately more sustainable.
Inspire to move
An exhibition stand is not mobile, but stationary, so the inversion of the claim was obvious to us: "inspire to move". The necessary movement for inspiration had to come from visitors to the stand.
The architectural concept needed a pull effect that attracts from afar and intuitively triggers a reflex for something moving already when approaching.
We called this immersive brand experience upon entering the Kia world the Kia Living Totem: a responsive installation that reacts live and in real time to the movements of people at and on the stand.
To turn the connection between people and brand into a holistic experience, we created an urban pavilion around the totem, which invited visitors on site on an interactive journey of discovery around the theme of Movement that inspires.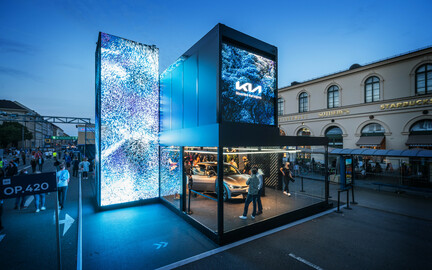 Digital innovation and genuine encounters
The end result was a dynamic, constantly changing experience as a brand credo come to life in a publicly accessible space - our example of the symbiosis of digital innovation and real encounters.
In line with Kia's philosophy of using people's movement as a source of inspiration for their products, we developed a holistic design concept together with our friends from bright! and transformed Kia's new corporate identity into a spatial, urban and interactive experience.
Get in touch!
We do everything that is needed, right down to the last detail, to make your brand a spatial experience – from the brainstorming workshop through to the conceptual planning and final handover of the completely realised brand space.