Three elements, a single interior design approach – creating a whole out of multiplicity
Visitors' Centre
In partnership with Kirsten Haake of haake architektur [Haake Architects] in Kassel, we reshaped the interior architecture of the Visitors' Centre of Museumslandschaft Hessen Kassel (MHK) [the Hessen Kassel Museum Landscape], located in the old station building at the foot of the Wilhelmshöhe Mountain Park. The challenge to the planning team was to devise an interior architecture approach which would leave sufficient room for the three functions of information, shop and exhibition, this on a rather limited surface area, while at the same time creating a contemporary modern ambiance.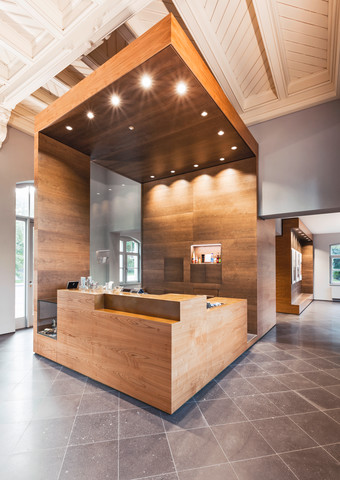 To generate flow in the spatial transitions, the architects allocated volume to each of the three functions in the form of a space-creating cube. This central cube, which includes both the information desk and the ticket office counter, expands into all three available rooms and so succeeds in linking them.
The geometrically minimalist cube design in the historic context of the old station building, the careful selection of materials, the spatial rearrangement of the area and reconstitution of references to the outside world all give visitors a message, telling them that they can expect a friendly reception at the World Cultural Heritage Mountain Park that is Wilhelmshöhe.
Get in touch!
We do everything that is needed, right down to the last detail, to make your brand a spatial experience – from the brainstorming workshop through to the conceptual planning and final handover of the completely realised brand space.