Smart, rough, urban – design reinterpreted
Revolver Trade Fair Stand
Following a three-year break, our partnership with EASTPAK resumed, entering a new chapter with the Danish fashion trade show Revolver. The company aimed to improve its position in the Scandinavian market, while establishing itself in the premium segment.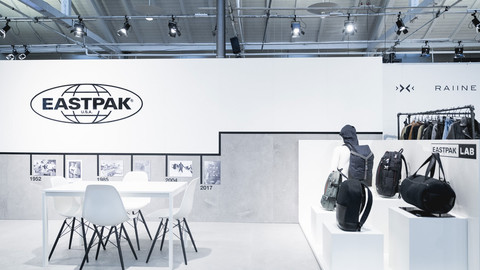 Key Elements
For this important appearance we revolutionised the label's existing trade fair stand. Existing key elements of the design, like the strong linearity and the choice of materials, were rethought and reinterpreted. The result was a smart urban style, using rougher materials. The succinct outlines and retail grid characteristic of the brand's unusual style of product presentation were likewise subjected to artistic reinterpretation. The result was four visually distinct areas - for product presentation, communication, orders, and a special area for the premium collections.
Get in touch!
We do everything that is needed, right down to the last detail, to make your brand a spatial experience – from the brainstorming workshop through to the conceptual planning and final handover of the completely realised brand space.