A lot of courage for color
We have built minilu's dreamhouse for the International Dental Show 2023 in life-size!
minilu is an online dental depot for practices and laboratories, in a competitive clinical environment. The brand deliberately relies on a cheerful and colorful appearance and thus underlines the uncomplicated services and offers, which are primarily aimed at dental assistants. The heroine of the communication is the brand character minilu, the dental assistant's best friend with her very own world of dental ideas.
With a lot of courage for color and a strong portion of creativity, we have consistently implemented the "brand home" of minilu spatially.
Architecture to experience
The special architectural challenge: to tailor all rooms of the minilu trade fair stand precisely to the various trade fair activities as well as events, and to do so with full functionality. From the veranda to the dressing room to the front garden: each room was used in a meaningful and imaginative way to effectively emphasize certain aspects of the brand. We also had to pay close attention to ensuring that the character of the house and each room was evident. The hallway served as a color-contrasting catwalk, connecting all elements of the booth.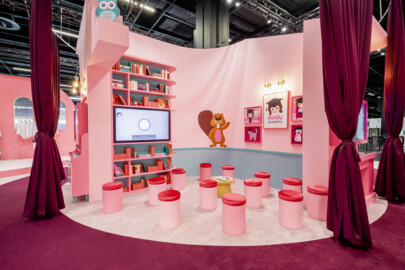 A world of experience that inspires
The result is a unique trade fair experience with a strong long-distance effect. The attention to detail and the escapism-oriented architecture of the minilu dream house were able to inspire visitors at the International Dental Show (IDS) and sustainably invite them to discover, linger and exchange. The minilu.mag set up especially for the event and the architecturally grand gesture of the closed curtain at the fashion shows ensured an immersive experience at IDS 2023.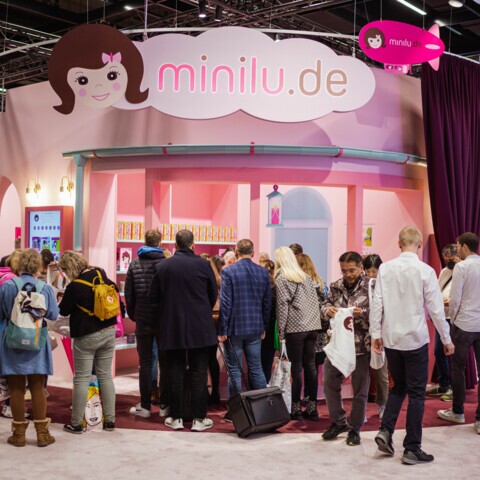 Get in touch!
We do everything that is needed, right down to the last detail, to make your brand a spatial experience – from the brainstorming workshop through to the conceptual planning and final handover of the completely realised brand space.