Clean lines & minimalist design - Modern marketing suite in the Lyoner Quartier in Frankfurt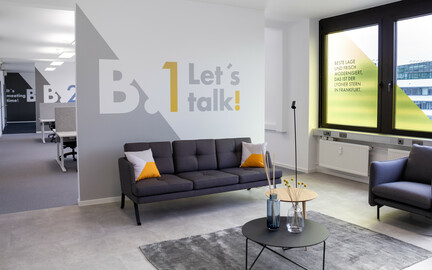 Marketing Suite with Flair
For our client Montano, the task was to expand a marketing suite in the Lyoner Stern office complex in the lively Lyoner Quartier office location in Frankfurt's Niederrad district and make it an experience. On the 9th floor of the building, an inviting, modern marketing space with clean lines, minimalist design and impressive details was created here on 350 sqm, incorporating the existing stock.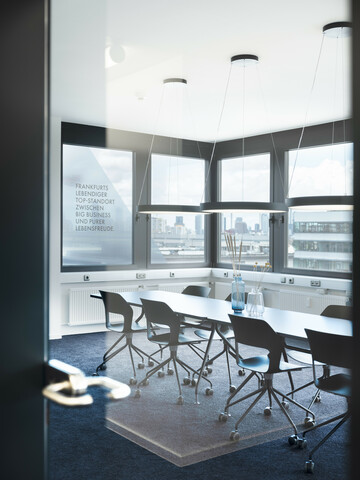 Customer Journey in every Detail
The customer journey begins even before entering the rental space: in the Welcome Area, prospective tenants are greeted with the words "Welcome to your Dream Office". Further statements of this kind, such as "Let's do epic work" and "Let's Talk!" can be found in other areas of the Marketing Suite and run as a communicative thread through the entire marketing area in the Niederrad office complex.
A digital presentation introduces interested parties to the diverse features, the stacking plan and the floor plans of the space and provides a compact overview.
In the open-office area, workstations and visualisations on broker boards are used to efficiently show the various usable areas of the office space.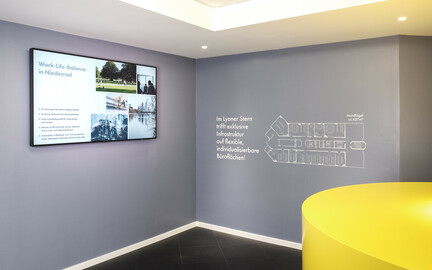 The brand lounge invites a cosy exchange - with warm colour accents, which can be found again and again as a design element in the marketing suite, an inviting ambience is created here to linger.
The customer journey ends in the representative conference area and rounds off the experience in the marketing area with an impressive view of the Frankfurt skyline from the 9th floor.
Get in touch!
We do everything that is needed, right down to the last detail, to make your brand a spatial experience – from the brainstorming workshop through to the conceptual planning and final handover of the completely realised brand space.