Hello Discover Airlines
We were responsible for the spatial design, conception and implementation of two brand reveal events for the airline Discover Airlines.
The subsidiary of the Lufthansa Group – formerly Eurowings Discover – presented its new look and name to the public as "Discover Airlines".
The interdisciplinary task was to translate the new brand and the new design into different event formats: a press event, a hybrid employee event and a spatial staging in the form of a brandworld.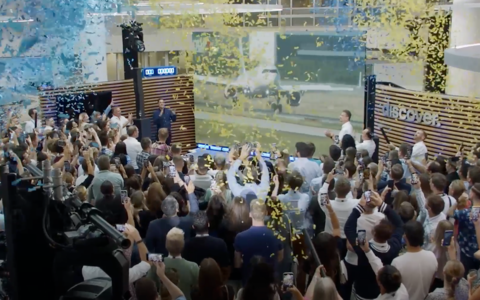 Authentic presentation
Since the initial presentation of the predecessor brand Eurowings Discover as part of the kick-off event, the focus has been on adequately presenting the brand through tailor-made experiences. The new brand reveal also served this goal, in which the focus was on effective communication with the various target groups - including press representatives, employees and the public.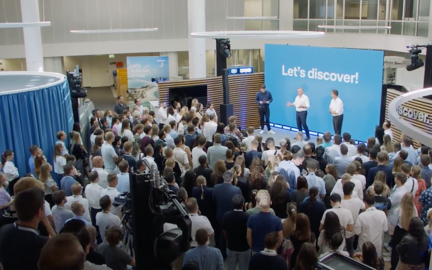 Discover the new brand
The day of the event began with a press conference, followed by a hybrid employee event, at which employees and press representatives watched the landing of the first aircraft with a new livery live.
The employee event offered a varied program that began with the staged brand reveal to unveil the new brand identity. The new brandworld designed by us was then officially opened. The participants were able to experience the brand with all their senses.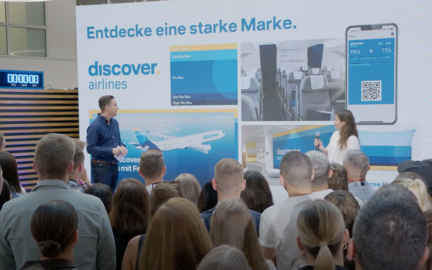 Present effectively - even mobile
We also developed a mobile version of the new brandworld for the press conference. The mobile brandworld is an innovative format that makes it possible to display the Discover Airlines brandworld in a compact and mobile form. We have designed cube elements that, when stacked on top of each other, create a large overall picture. We placed selected objects from the brand on the surfaces of the cubes to give visitors the opportunity to experience the feel and feel of the new brand up close.
This concept was developed for long-term use in order to effectively present the Discover brand in a compact and mobile form at future events.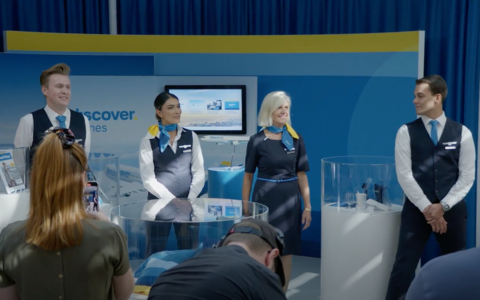 Experience it up close
Another highlight of the event was the live broadcast of the first flight with the new livery, where viewers were able to experience the event up close. There were also live links to Munich, Discover Airlines' second location, and to the cockpit of the first flight. An employee there provided insights into the first flight under the "Discover Airlines" brand.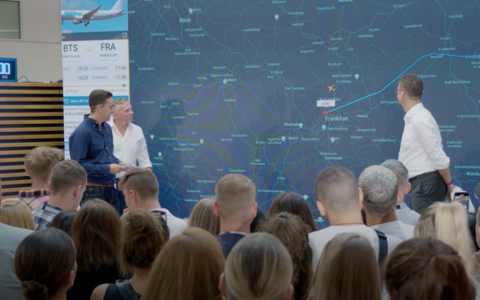 With our holistic approach, we helped Discover Airlines effectively present their new brand and design to the world.
Contact us!
Would you like to turn your brand into an experience with us? Then we are there for you! We stage your brand and make it come alive – through authentic interaction, digital extensions and valuable moments full of emotions that stay in your memory.
Contact us!
Do you have a good idea that we should talk about or do you want to start a project with us? We are already looking forward to creating shared experiences with you.